国際化のなかで育ちゆく子どもたち/International Perspectives on Childhood

2022
2年ぶりに対面授業再開です。オンラインの活用から学んだことを取り入れつつ、同じ空間にいての生ディスカッションに力を入れていきます。
Face to face classes are back for the first time since 2019. We won't be forgetting the new skills we have learned from online classes during the last two years, but we are thrilled to be able to have lively discussions together in the same space and same time.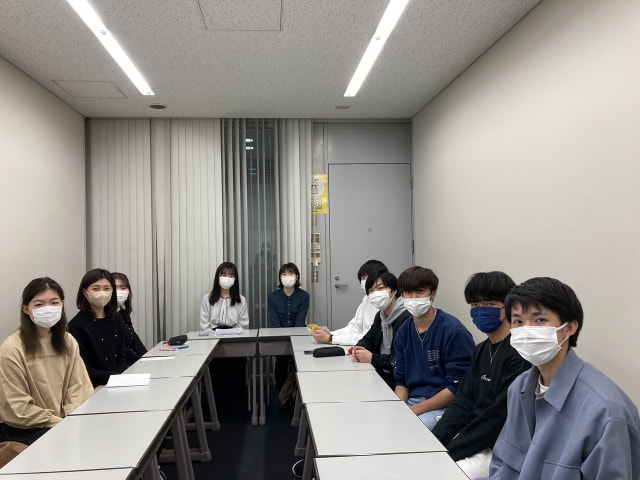 メンバー / Member
竹内 快 / Kai Takeuchi
村松 和香 / Nodoka Muramatsu
青木 莉瑚 / Riko Aoki
菱田 剛史 / Tsuyoshi Hishida
笠原 彩音 / Ayane Kasahara
濱谷 悠貴 / Yuuki Hamaya
渋谷 大新 / Taishin Shibuya
中村 拓斗 / Takuto Nakamura
宋 雅彬 / Avin Song
松田 珠希 / Tamaki Matsuda
プロジェクト / Research Projects
Comparative Case Study of Cross-Cultural and Intercultural Parenting

Inclusive Education

How Children Cultivate their Curiosity -Thinking through Montessori Education at Obirin Kindergarten -

Children in Orphanages

Understanding Children's Behavior

ICT Education in Early Childhood Education

How are we able to speak more than two languages frequently?

Wearing a Mask and Child Development
メンバーの声 / Member's Voice
It was my first time learning about education, but I was able to enjoy learning by connecting with my experiences. In the spring semester, we watched videos and found that educational methods differ greatly depending on the country. Ms. Hayashi and other members' experience and opinions expanded my understandings. Also, I learned how to proceed with research through the project, so I would like to make use of it in the future.
Thank you for all supports through this class. I learned a lot from your class in both spring and fall semester. One thing that I was the most impressive is the "final research project." In addition to gathering and presenting my own information, teacher was very helpful in providing me with multiple consultations and feedbacks to create a better project. Again, thank you for everything in this class.
This seminar was great for me. When I entered this university in this April, I felt like studying something which is helpful in the future. Then, I took this seminar for studying cultural variations in how children are growing up in an era of globalization and internationalization in English. I learned a lot about the importance of childhood education through videos in Spring semester and class discussion in Autumn semester.
I got to approach the topic of childhood development from various perspectives such as educational, psychological, and anthropological perspectives. I thought it was an excellent structure that we got to learn about the topic in the first semester and then proceed with our own projects in the second semester. In my research, I got to fulfill my interest in intercultural parenting and get some wholesome interview results. Thank you Hayashi sensei for supporting us on the way! Hope to take your classes in Mita, too!
Posted on: