国際化のなかで育ちゆく子どもたち/International Perspectives on Childhood

2021
コロナ禍でのスタートとなりました。現状だからこそ出来ることを考えながら、学びを進めています。
We started the seminar this year under a pandemic. We keep our learning to focus on what we can do "now."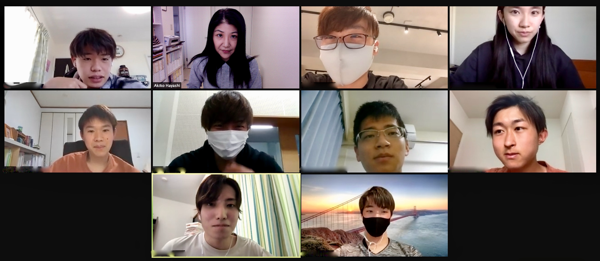 メンバー / Member
門脇 慶 / Kei Kadowaki
篠田 琉誓 / Ryusei Shinoda
有馬 慎太郎 / Shintaro Arima
小田 真輝 / Masaki Oda
山本 永遠 / Towa Yamamoto
栗田 和慶 / Kazuyoshi Kurita
孫 ヨン尚 / Yonsan Son
田嶋 波輝 / Namiki Tajima
山崎 海 / Kai Yamazaki
プロジェクト / Research Projects
Why do we say terrible twos, horrible threes, and wonderful fours?
Bilingual Education in Finland
Assimilation of Immigrant Children in Japan: Exploring Educational Policy to embrace Ethnic Diversity
Magic Carpet, Take Me to A Whole New World: Journeys to Other Cultures with Disney Films
Re-Validation of K-Kids & J-Kids: Bilingual Education in Japan and Korea
Device and the Child
メンバーの声 / Member's Voice
幼児教育全般、また、幼児教育の長期的影響を探索するのを楽しみにしています。
I am so excited to explore the field of Early Childhood Education and its long-term benefits.
色々な国の子ども時代の教育について学ぶのを楽しみにしています。特に、各国の特徴と教育制度との関係に興味を持っています。
I'm looking forward to learning childhood education in many different countries. I'm especially interested in the relationships between education systems and characteristics of each country.
私は、日本や海外で育った子どもの、言語能力やものの見方の違いに興味があります。
I am interested in the difference in language ability and perspectives between the children grown up in Japan and other countries.
Posted on: